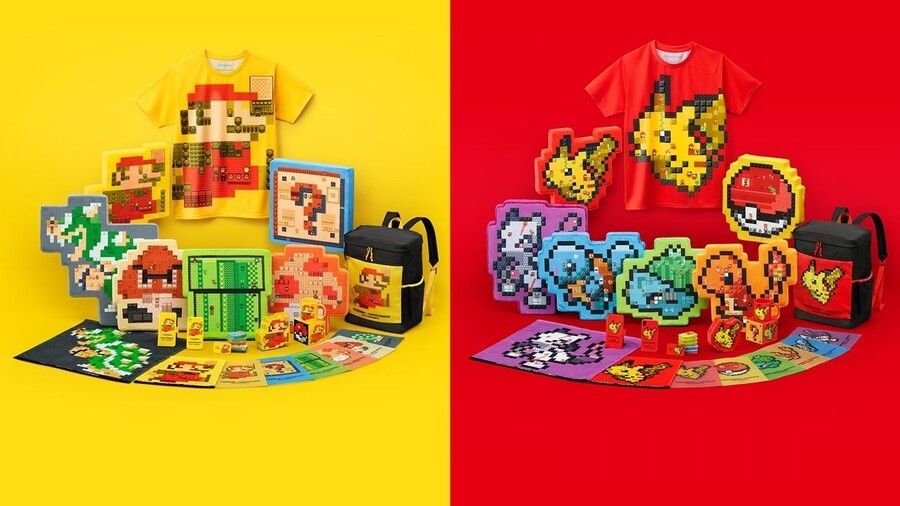 Nintendo has come up with an ingenious way to fly your fandom flag for both the Pokémon and Super Mario franchises in one piece (or various pieces) of quality swag. Next month the Nintendo Tokyo store will be opening with a host of exclusive merchandise for lucky shoppers in the Japanese capital to fritter away their hard-earned cash on. Now, the store's official Twitter account has tweeted detailing a most ambitious crossover.
Named the 'SUPER MARIO X POKÉMON 8-BIT SCRAMBLE', pixel art for both franchises will be emblazoned over t-shirts, notepads and the like. That's nothing new you might be thinking, but take a closer look at the 'pixels' and you'll see that each image is made up of sprites from the opposite franchise.
Here's a closer look:
Nintendo's Japanese website goes into more detail concerning the exact items available, including cushions, mugs and phone cases. It appears that the items will be available in the series' respective Tokyo stores (the upcoming Nintendo Tokyo store and the Pokémon Center Shibuya).
It's a classy crossover, that's for sure, mixing two of Nintendo's biggest franchises with an irresistible dose of retro goodness. If anyone's heading to Japan, feel free to pick up an extra one of everything for us.
Will the deluge of fabulous Japan-exclusive goodies never end? Ah, we're just jealous. What are your thoughts on this most ambitious (and uncharacteristically subtle) of crossovers? Let us know with a comment below.