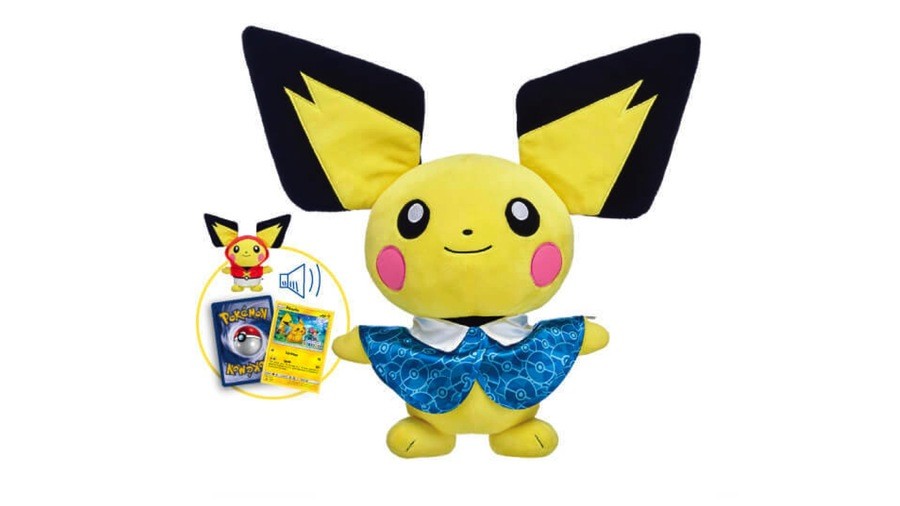 Yet another Pokémon has joined the Build-A-Bear ranks, and this time it's the turn of Pikachu's adorable little baby and feisty Smash Bros. terror, Pichu.
You can go ahead and pick up a Pichu of your own from the Build-A-Bear store as we speak (UK / US). To get Pichu and its full set of accessories, you'll need to hand over £47 / $61, or you can pick up just the plush on its own for £21.50 / $29. Adorably, the product page notes that due to Pichu's extra-large ears, the plush cannot fit inside standard-sized Cub Condo packaging.
Here's what else it says:
Welcome Pichu to the Build-A-Bear family! With its happy smile, extra-large ears and embroidered pink cheeks, this Pichu plush makes a small but powerful addition to any Pokémon Trainer's lineup. It's shocking how cute this Electric-type Pokémon looks in its online exclusive bundle which includes a Blue Cape, Repeat Ball Hoodie, 6-in-1 Pichu sound chip and Build-A-Bear Workshop Exclusive Pikachu Pokémon TCG Card!
Price includes:
– Pichu
– Blue Pichu Cape
– Repeat Ball Hoodie
– 6-in-1 Pichu Sound
– Build-A-Bear Workshop Exclusive Pikachu Pokémon TCG Card
Of course, Pichu isn't the only Pokémon available in Build-A-Bear form. There's Psyduck and Snubbull, Piplup, Vulpix, Meowth and more.
Are you getting one? Can you resist the cuteness? Tell us below.