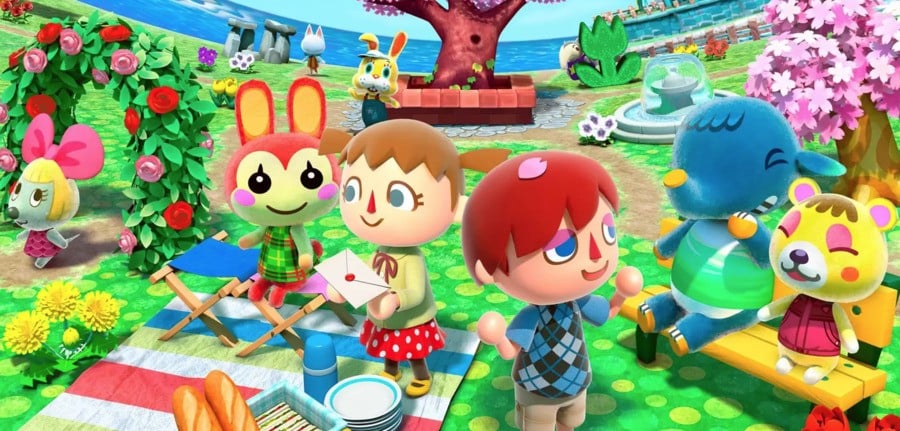 Even if you're not an Animal Crossing fan, it would be hard to miss the joyous celebration its cult following is having on social media right now.
You'll find Animal Crossing memes on almost every platform: Instagram, Twitter, Tik Tok, and Discord. The majority focus on relaxing aspects of the game like its characters and slow pace, but others are more nonsensical. Take, for example, the lovely but rather meaningless froggy chair fan club. On Tik Tok, the biggest creators regularly use K.K. Slider remixes and the game's soundtrack as background music. Animal Crossing is seemingly everywhere.
Anticipation for Animal Crossing: New Horizons partially fuels the frenzy as fans gear up for the March release. Just last week, stores started announcing pre-order packages that included exclusive merch, character keychains, a Switch mount, and more.
The fervour has made it easy for creators focusing on the new release to grow a fanbase, as demonstrated by the explosion of followers on The Crossing Channel, which dissects as many little details from the upcoming title as possible. The YouTube channel, run by a British fan known only as Ben to protect his privacy, picks apart the little things, like a recent upload examining customization options New Horizons might have.
Ben, who now has 23,000 subscribers, told Nintendo Life in an interview he started the channel because he felt there wasn't enough Animal Crossing content on YouTube. "People are so excited and so passionate about this game," he said. "I think [the channel] also reminded people just how great the game really is."
You might call Ben a Bob fanboy, because the villager is his favourite and plays heavily into the branding on his Discord channel and live streams, where fans can vote on their favourite villagers, too. Ben said he loves Bob, the purple cat, because of his laid-back style and thinks he would make a great friend to hang out with. "Bob embodies what is great about Animal Crossing," he continues. "[We] could just chill on the sofa, fishing in Animal Crossing with nachos and a slice of pizza in hand."
Other creators base their accounts, memes and brand around certain villagers, too. Sarah Gonzalez has started and run a few games-based Instagram accounts, but most of them fizzled out over time. She has kept up her Pietro-themed account, though, and is delighted with its success. Gonzalez shares AC-related text posts, Pietro content, and of course, froggy chair memes. This has earned her just under 7,000 followers, and some of her content comes from other Animal Crossing meme accounts; she's one of many.
"When I started it, I didn't think there was more than a couple of hundred people in the world who [would] follow," Gonzalez said. "It also means they like Pietro, which makes me happy." Pietro is a sheep villager with colourful fur and makeup that makes him look like a clown. Gonzalez said her main concern for New Horizons is whether her favourite is brought back, but she's also looking forward to updated graphics for details like hair and furniture, as well as placing furniture outside without it being part of a public works project.
New Horizons wasn't Gonzalez's sole motivation for opening the account, however; she started the page before any announcement of a new game. Other creators on Tik Tok have been making videos with Animal Crossing soundtrack remixes, and some of them were nostalgic, too, creating content without specifically making it about a new title.
Madeleine Dilley's Tik Tok is varied. She posts videos having fun with Tik Tok stereotypes, jokes about her cat and cosplay. You'll also find Animal Crossing peppered throughout, but these videos focus on her avatar, not the villagers. Dilley, who has 267,000 followers, helped start a trend where people dress up as their mayors and mimic their character's idle animation. As memes go, it's pretty wholesome.
Dilley said she loved seeing everyone else's cosplays, but that trend and the others on the app weren't about New Horizons. Dilley said another of her favourites is the videos of girls licking their salt lamps to see how they'd taste, filmed over tracks from the game and the high-pitched villager vocal styles. She said she appreciates any video that has some chaotic energy and is paired with the lowkey Animal Crossing soundtrack.
A survey of players we conducted in the process of putting together this piece mirrors what you can find on Tik Tok. A solid 80 percent of those surveyed said they'd been playing Animal Crossing for more than five years, and while 90 percent said they planned to play the new game and 87 percent of respondents play New Leaf on the 3DS.
If the social media hype were all about New Horizons – particularly on an app like Tik Tok which is dominated by Gen Z – you'd expect more people to report playing Pocket Camp, Animal Crossing's mobile title. While some people did report playing Pocket Camp, it wasn't enough to overtake New Leaf, and almost as many people reported playing Wild World on the DS, too.
Like Gonzalez and Dilley's posts, low-fi soundtrack remixes and the more nonsensical memes have little to do with the upcoming game and in fact, some of those creators may not have ever played a single release. Dilley has, though, and she does plan to buy New Horizons. "I told myself I would only buy the Switch if they made a new Animal Crossing," she told us. "I feel god in this GameStop tonight."
Of all the rabbit holes to fall into, Animal Crossing memes are certainly some of the most positive and harmless the internet has to offer. Fans often discuss how the game improves their mental health and reduces anxiety, and many of the survey responses, which were all anonymous, pointed to "how tranquil it is" as a top reason for playing. But, even when the memes aren't that deep, they're usually funny or cute.
Some of these posts are spurred on by New Horizons hype, but that isn't always the case. It only further proves the lasting power of what is now probably considered a cult classic. The upside is the trove of memes has something for everyone, regardless of which titles someone has, hasn't, or plans to play.
Ben of the Crossing Channel summed up this lovely online culture nook best. "It's a really exciting time to be an Animal Crossing fan."