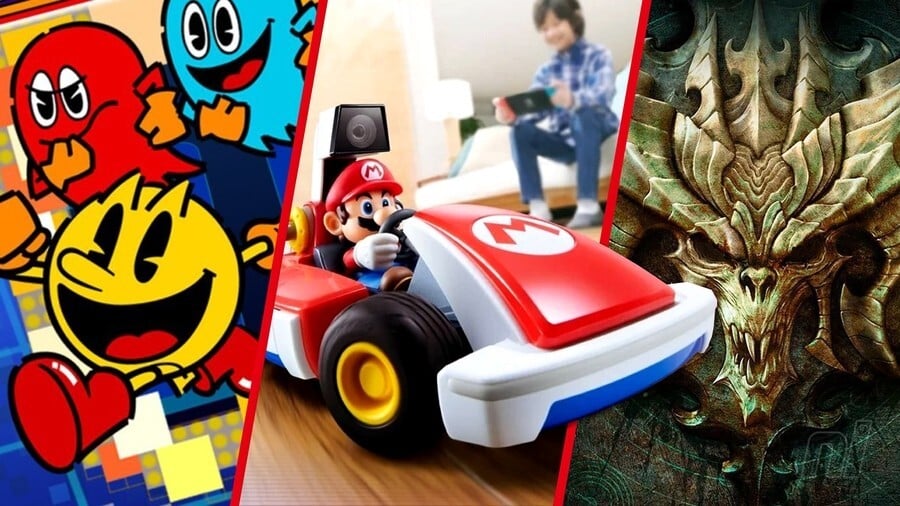 The Switch's facility with local couch co-op games is one of the key selling points of the console. The ability to crack (read: carefully slide) off the Joy-Con and get involved in some same-screen multiplayer mayhem is super convenient, although the introduction in September 2019 of Switch Lite — the portable-only console variant which doesn't have removeable controllers — means that local wireless play (meaning Switch-to-Switch, no internet connection required) has grown in popularity, too.
While far from guaranteed, the likelihood that there's more than one Switch in your household is growing all the time, so below we've assembled a selection of local wireless multiplayer games which arguably function at their very best when everyone's got their own Switch (in fact, multiple Switches are a necessity for the first entry on the list).
On related topics, our guide to which Switch Games don't work with Switch Lite might prove helpful, and if you're a solo gamer packing two Switches (lucky you!), our guide on sharing games and saves across Nintendo Switch and Switch Lite might also be useful.
So, let's look at the best local wireless play Switch games. Before we begin, it should be noted that although you don't require a Nintendo Switch Online subscription to play local wireless multiplayer, you will need not only multiple consoles, but also multiple copies of whatever game you want to play (except in a couple of welcome cases which we highlight below). Yep, things can start getting expensive!
---
Got any nominations for this list? There are many other games that feature Local Multi-Card Play options for multiplayer battling, trading and the like — Splatoon 2 or Luigi's Mansion 3, for example — although in our estimates playing on a single console (or online) offers a similar or better experience in those cases.
Still, there's nothing quite like multiplayer gaming with your partner/opponent in the same room, so if you think we've missed an essential local wireless gem, feel free to let us know down below and we may add it.
This article is one of our Switch Essentials guides which cover a wide variety of genres, including the Best Switch FPS Games, the Best Switch RPGs, the Best Switch Games For Kids, the Best Switch Couch Co-Op Games and the Best Switch Fitness And Exercise Games. We can also help out hunting down the Best Switch Horror Games, the Best Switch Racing Games, the Best Switch Action-RPGs, the Best Free Switch Games, and even Games To Play After You've Finished Zelda: Breath of the Wild.
Whatever your favourite genre, we've got you covered: Strategy Games, Metroidvanias, Puzzle Games, Party Games, Online Multiplayer Games, Shmups, Fighting Games, Hidden Gems, 2D Platformers, 3D Platformers, Sports Games, Beat 'Em Ups, Chill Games, Family Games, Retro-Inspired Games, Short Games, and the Best Switch Exclusives, as well as Every Arcade Archives Game, Every ACA Neo Geo Game and Every SEGA AGES Game On Switch.
If you're looking for the best Switch games regardless of genre, our reader-voted selection of the Best Nintendo Switch Games should help you out, and you can also find the Best Nintendo Switch Games Of 2017, 2018, and 2019. And finally, if you're interested in other Nintendo consoles and retro games, check out the Best Nintendo 64 Games, Best Game Boy Games, Best Nintendo DS Games, Best Nintendo 3DS Games, and the Best GameCube Games, as well as Every Nintendo Switch Online NES Game and Every Nintendo Switch Online SNES Game.