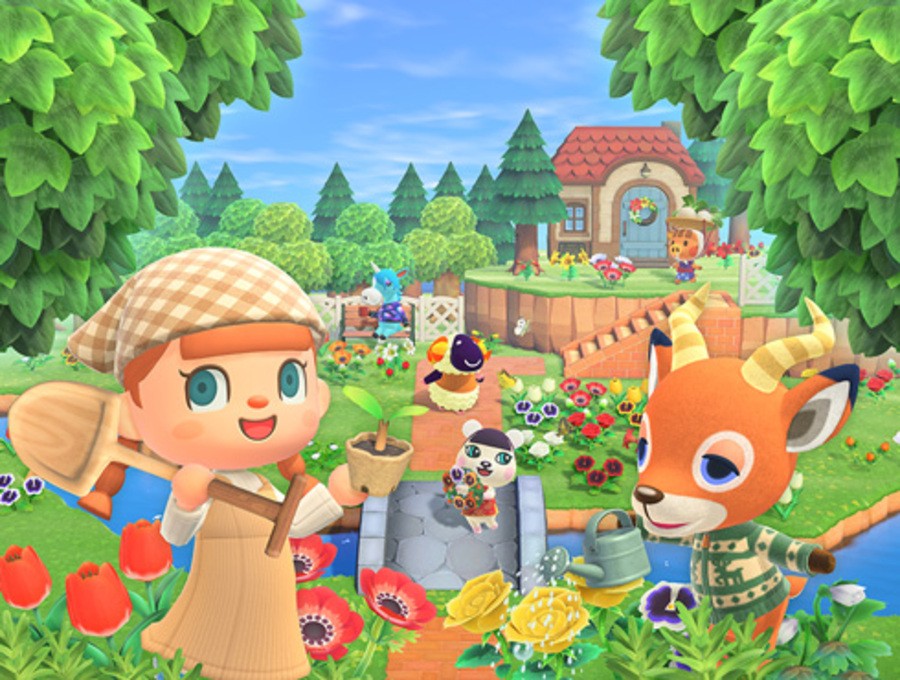 A major part of what makes the Animal Crossing series so memorable is its wonderful and wacky characters. Anyone who's played any of the previous entries can most likely list a few of their favourite villagers off the top of their heads. So with the latest entry in the series, Animal Crossing: New Horizons, landing soon on Nintendo Switch, we know that many are curious to know if their favourite villagers will be returning.

In total, 79 characters have been revealed so far, 67 of which are characters returning from past games and 12 are brand new characters that we have little info. We're sure that number will rise greatly by the time the game launches as past entries have featured into the hundreds of villagers and special guests. So to keep track of all of these reveals, we've gone ahead and put together a handy list of the instances where these characters have first been spotted in New Horizons! We'll be sure to update this as more characters come knocking on our door.
New Horizons System Decal / 27.01.2020
Thanks to a newly revealed Switch and Switch Lite system accessory, we were given confirmation of the return of some staple characters like the Able Sisters, the museum duo Blathers and Celeste, Gulliver and Sahara, but we were also treated to a look at ten entirely new characters. A few of these seem like they might be younger replacements for Joan the turnip trader and Chip the fish connoisseur. Only time will tell.
Special Characters
Blathers
Celeste
Gulliver
Kicks
Labelle
Mable
Sable
Sahara
Wisp
Plus 10 New Mystery Characters
Nintendo Dream Magazine / 21.01.2020
The Japanese magazine, Nintendo Dream managed to get quite the hefty spread on Animal Crossing: New Horizons in their March 2020 issue, including a brand new batch of character reveals!
Villagers
Alfonso
Aurora
Bud
Cesar
Chevre
Curt
Fang
Flip
Jay
Kitt
Melba
Molly
Octavian
Rocco
Rowan
Tank
Truffles
New Artwork, Screens & Teaser Trailer / 02.01.2020
January 2nd gave us a huge amount of info to analyze! We were given a brand new sort of teaser trailer that shows off a slew of villagers being pitched Tom Nook's new Island Getaway package, a few new screens courtesy of Nintendo of Japan's website, and over on the Animal Crossing Twitter page, Isabelle was also gracious enough to share with us the artwork that is being used for the cover of New Horizons. Here we got our first real look at Isabelle sporting a new vacation attire and if you look hard enough you can even spot Harvey hanging out on his own island off in the distance. Wonder how he got out there?
Villagers
Apollo
Bunnie
Carrie
Chrissy
Colton
Francine
Gladys
Goose
Kiki
Lolly
Margie
Marshal
Rod
Stitches
Ted
Special Characters
Plus 2 Mystery Characters
Artwork Reveal / 21.12.2019
Nintendo dropped a few pieces of character art that mostly show off player characters performing different activities, but they also gave us our first official look at our favorite singer/songwriter, K.K. Slider.
Special Characters
Nintendo Direct Trailer / 04.09.2019
With this second trailer for the game, we were able to get up close and personal with characters like Bill and Rosie, but quite a few more characters were also revealed roaming around throughout the island as the trailer played out.
Villagers
Angus
Antonio
Butch
Bill
Eunice
Fauna
Filbert
Freya
Lily
Lopez
Peanut
Peewee
Roald
Rosie
Tammy
Wolfgang
E3 2019 Trailer / 11.06.2019
The original reveal trailer had a lot to show off but didn't give us much info on returning villagers and other characters. That didn't stop us though from picking out a few villagers walking about in the background.

Villagers
Fuchsia
Goldie
Hamlet
Olivia

Special Characters
---
Have any of your favorite villagers been revealed yet? If not, who are you hoping returns to New Horizons? Let us know down below!